I am Ewa Stempel, Lead WebOps Engineer in MoJ Digital & Technology. I joined the Ministry of Justice and the Digital Studio Operations team in July 2019 and didn't know what to expect. I however was very excited to start working in the public sector for the first time ever and to play a part in making a difference in people's lives.
Purpose
I feel lucky to be part of the MoJ-helping to protect the public and giving people a second chance. The values of the organisation - purpose, humanity, openness, together - are values I share, and this was a big part of why I chose the job.
Diversity
We believe that building diverse and inclusive teams is as important as the skills and expertise of the people. Different backgrounds bring varied perspectives and these should be cherished.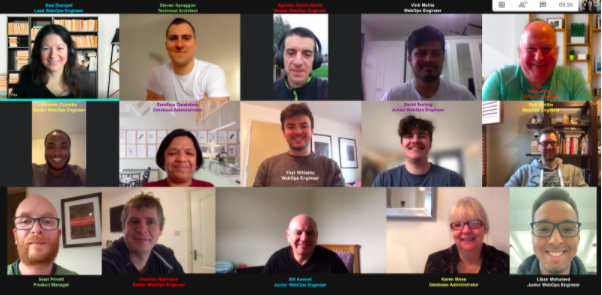 Mastery
The MoJ invests in us and values us as people, not just resources for a task. We get 10% of our time to spend on learning, and access to learning platforms - Linux Academy and Pluralsight, to name a couple.  We also build Communities of Practice to share knowledge across the MoJ and wider government. There are even opportunities to go into prisons if you want to, as some of our team have done. The 'user' after all is at the centre of everything we do.
Autonomy
We have a lot of freedom to choose the tools we use, whether it be from a small open source repository or a feature in Azure or AWS.  We're using Kubernetes to help software developers become more self-sufficient, GitHub Actions to automate repetitive tasks, and Terraform to hold our infrastructure as code (IaC).  And of course, we still have legacy application issues to solve, as most organisations do: we call it 'fixing the basics'.
Flexibility
In the past, we worked at the Digital Studio in Sheffield - a great, collaborative place where we sat with developers, product managers, user researchers, and specialists from prison and probation. Covid-19 has changed that, but we know we have worked successfully as a fully remote team for 9 months now, and are likely to carry the lessons we've learned into the coming years.
The team has welcomed 11 new starters since the first lockdown - all remotely. We highly highly recommend it to anyone, whether you are considering a career change like me or perhaps considering working in the public sector for the first time.
Don't just take my word for it, read our five-star reviews from members of the team and people outside!
The team has a proactive approach to monitoring, maintenance, automation, and driving down costs.' - Howard
They are all approachable and do not make you feel stupid due to not having a technical background, and they explain things simply- Duncan
Working with DSO is a breath of fresh air compared to some DevOps teams. They are not only knowledgeable but approachable, jargon-free, helpful, and a pleasure to work with- Rich
Working here is a real pleasure. Positive environment, helpful cooperating colleagues, flexible working, and lots of training opportunities that are relevant in ever-changing IT- Sandhya
I recently joined the MoJ as a WebOps Engineer, having spent the last 15 years working as a mechanical engineer in the railway industry. Coming from a completely different background, I was pretty nervous about starting and how my limited experience in this field would be perceived.  However, I need not have worried; everyone in the team has been extremely welcoming and helpful in getting me up to speed!  Despite working remotely due to the global pandemic, the on-boarding process has been great, with regular communication with my colleagues through Slack and video calls. Overall my impression of working at the MoJ is extremely positive and I would recommend it to anyone, whether considering a career change like me, or perhaps considering working in the public sector for the first time- Rob
Takeaway
Hopefully, that gives you a flavour of what it's like to work here. To borrow from Daniel Pink, we have a strong sense of purpose, working to improve outcomes for some of the most vulnerable people in society; the trust and autonomy to focus our abilities on a shared vision; and an organisation that encourages us to grow as individuals and professionals.