A few days ago we did a small but important release to improve the postcode search facility for court finder (now in version 2.1!).
You can now not only search for courts in England and Wales, but also find details of tribunals across the country - including those based in Scotland.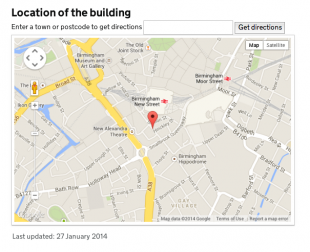 This coincides with a plan by HM Courts & Tribunals Service to release information on all of their tribunals.
We're now also using the most up-to-date postcode data. This is important because postcodes change - new ones get created, old ones get deleted.
Developer Sym Roe found that the best API (application programming interface) for this was the MapIt service offered by the not-for-profit organisation mySociety.
This returns a pair of latitude/longitude figures for any postcode in the UK, pinpointing exactly where the address is on a map.
The API also allows us to match this to the admin areas covered by the courts.
Developer Jairo Diaz reused the MapIt API in less than a week, so we could release the new, improved service.
Jo Nowakowska and Julie Copley from HMCTS are leading on publishing all tribunals contact details, which will go live very soon.
Keep in touch. Sign up for email updates from this blog, or follow Daniela on Twitter.