Last Friday we completed the first two weeks of work on tribunals decisions search services for the Employment Appeal Tribunal, Administrative Appeals Chamber and Tax Chamber.
These follow the launch of Immigration and Asylum Appeal decisions back in August.
We worked with HMCTS colleagues, judges and operational managers from all 3 chambers to ensure their needs are well understood. Developers Hrishi and Alex did a fantastic job and solved challenging data issues. Content designer Leigh and Interaction designer Eddie created an easier-to-use layout, which will go live soon.
There are 25 tribunals databases in total, which we plan to gradually corral into a single searchable service.
This will be a challenge, as the databases are currently structured around the complex way tribunals are organised, and not exclusively by subject matter.
The HMCTS tribunal system consists of two levels - the First-tier Tribunal and the Upper Tribunal. Both levels are made up of a number of chambers, many of which deal with several different jurisdictions. All jurisdictions make decisions on appeals lodged with them. Many of those jurisdictions publish their decisions. Additionally a number of tribunals sit outside the two-tier structure, including Employment.
The end result is a bit like Russian dolls, where decisions are assigned to different containers. This means users need to know this structure to figure out where to look for a decision.
This org chart of the tribunals gives an idea of how those 25 decisions databases are organised: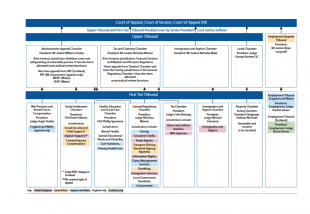 It is possible in most jurisdictions to appeal against the decision of a tribunal on a point of law. Such appeals would be made in the Upper Tribunal or Court of Appeal and decisions in such cases may currently be published in different databases. There's no link between these decisions and so you can't easily track all the decisions related to the same case.
For example, to find out about a given tax case, the decisions you need may be published in two completely separate datasets (for the First-Tier and Upper Tribunals).
The service that we're building will let you see all the decisions related to a case, regardless of which dataset it's in.
We'll finish working prototypes for the next three databases with this functionality in the next two weeks, test these with users, and publish them early next year.