We are very excited about the launch of a new service - immigration and asylum appeal decisions.
This allows you to find judges' decisions on immigration and asylum appeals, which have been decided by the Upper Tribunal Immigration and Asylum Chamber (UTIAC).
We're excited not just because it's a really useful service, but also because it's the first open source project coming out of the Ministry of Justice and we were able to build it so quickly.
But first a bit of a background on how it all started. When he was President of the Upper Tribunal IAC, Mr Justice Blake, was championing the need for a new database to provide a better service and to ensure greater transparency of decisions. This is how the old search for the majority of the decisions looked like:

The old database only allowed the user to search for certain decisions by the date of the decision, which could have been several months after the hearing, making it extremely hard to find the case in question. Our focus was therefore on the need to improve the search facility and to provide improved access to unreported decisions.
We worked with colleagues in the UTIAC President's office, Immigration and Asylum Legal and Research Unit, HM Courts & Tribunals Service and judges at UTIAC to take forward this work.
We've now delivered a beta (live test version) which was released on 5 August 2013. Here's a glimpse of the new web service: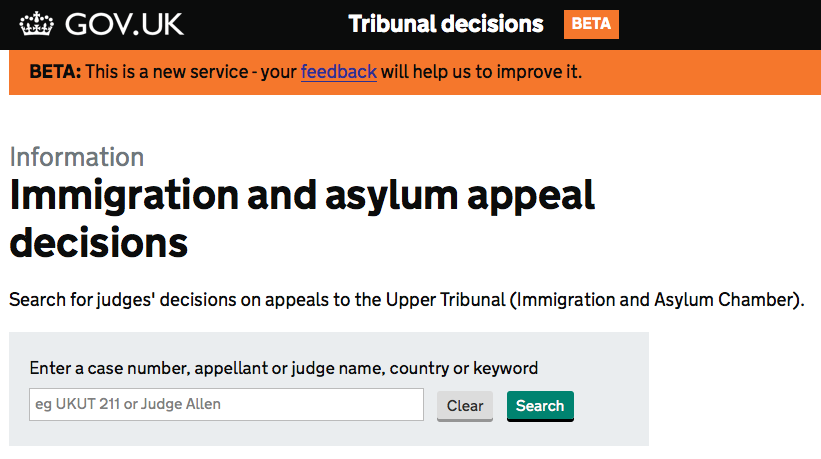 You can now do a free text search to find a case, as in a search engine, and narrow down the results with filters - such as the judge's name or a country (eg Afghanistan):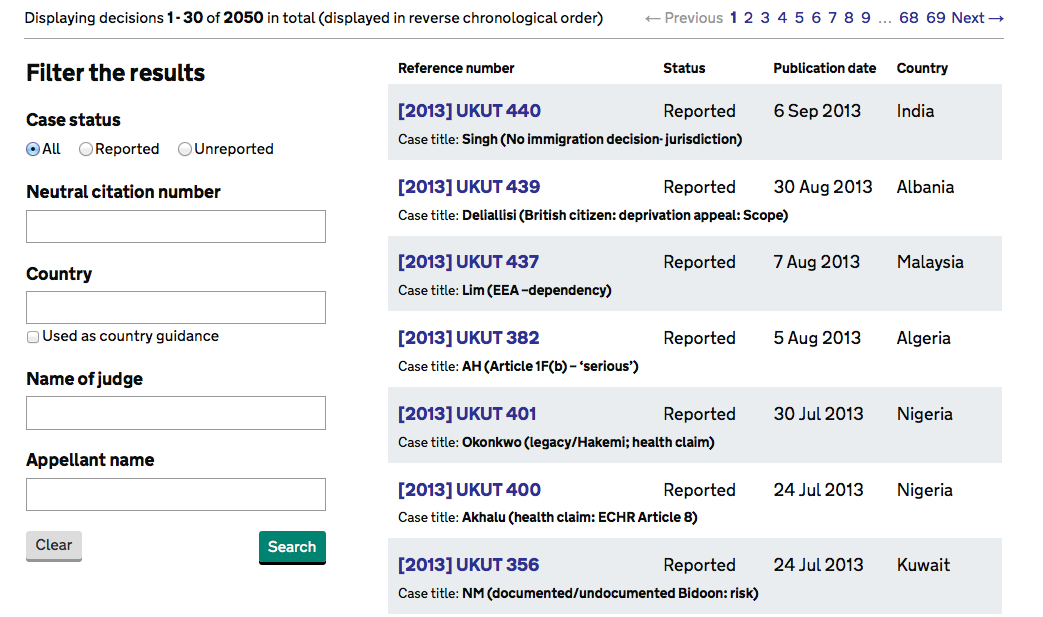 For the first time, you can search not only 'reported' decisions - important test cases - but also 'unreported' decisions - all the others, which make up 96% of the cases.
The new website includes all of the 'reported' decisions by the tribunal and the 'unreported' ones after 1 June 2013 (those prior to that date can be accessed on request).
True to our goal for open government we have open-sourced the code on GitHub. Jump on and help us make it better!
As with all of our services, this is a work in progress, and we'll be constantly improving it as we go along.
We'd love to hear your thoughts so please do not hesitate to send them to us here or via the feedback form on the website.
We have now started working on the next wave of tribunal decisions, starting with the following tribunals:
Upper Tribunal Administrative Appeals Chamber
First-Tier Tax Tribunal
Employment Appeals Tribunal
We are nearing the end of the discovery ('research') phase for these tribunals and will share proposed designs soon.