You be the Judge is an interactive tool that helps people learn more about sentencing, by putting them in the judge's seat.
Research shows that the public don't understand sentencing, but that more than three quarters think sentences are 'too lenient'. Changing people's attitudes is notoriously difficult, and measuring the impact of initiatives to do so can be just as hard.
However, we know that people change their minds about sentencing when they know the facts.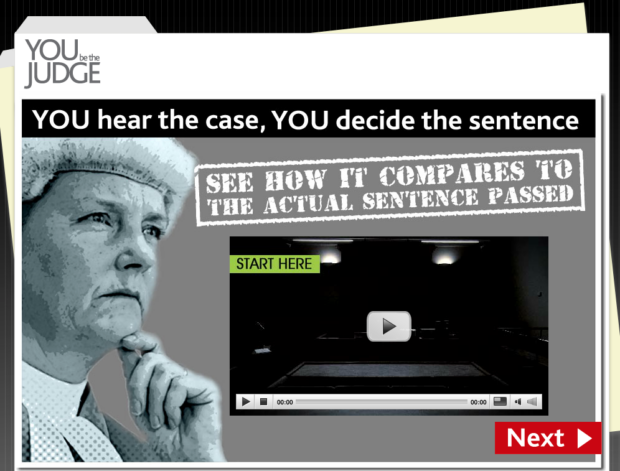 You Be The Judge takes them through the facts of a case with a series of videos. They hear the defendant's plea, and any aggravating or mitigating factors, before deciding on what sentence to pass. They then compare their sentence with the one handed out by a real judge.
For example, one of the cases is about a man who has been found guilty of stealing a young woman's handbag at knife point. The user is taken through the court case and asked to choose between sentencing options like giving him a fine or detaining him in custody.
After launching the tool, we wanted to work out if it had changed users' views about sentencing.
We couldn't survey thousands of users, and couldn't measure shifts in attitude with web metrics alone.
Engagement metrics such as the time spent on the site, page views per visit or bounce rates gave us an indication. And user comments and Tweets gave us some insight into what people really think. But we were left having to join the dots and interpret the data.
Our solution was to ask users the same question at the start and the end of each case:
What do you think about sentencing? 'Too lenient', 'about right' or 'too harsh'?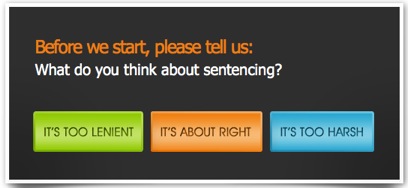 The data is captured in a MySQL database which allows us to calculate the shift. Simple and unobtrusive.
We were stunned by the results. For every three users who enter the site thinking sentencing's too lenient, two leave it thinking it's about right: we are succeeding in building confidence among 66% of our core audience.
We don't know if this will have a wider effect on attitudes, and we need to do more to promote the tool. But this is a great start, and shows the tool works.
We'd love to hear from other people about how they've measured shifts in attitudes so please get in touch! We presented the tool at the Sprint13 conference yesterday, and people gave us some great ideas, including syndicating the content to 3rd party sites to improve its reach and allow people to reuse it. All other ideas are welcome.