Court finder is a tool used by all sorts of people, including members of the public, lawyers and court staff.
It can be used to find details of a court, for instance if you're going to give evidence as a witness or need to know where to send a divorce form.
It began as a simple court look-up tool but now includes other venues like tribunals.
The tool is incredibly popular but desperately needs redesigning to make it easier to use.
Being an old application that we've inherited, the court finder has no analytics, so gathering useful data about what works and what doesn't is tricky.
To make progress, we're recreating the tool on a new platform to provide a better user experience, enhanced functionality and crucially full analytics. We will launch this as public alpha and iterate wildly.
We're starting off by making some improvements based on GDS design principles.
From customer comments, we know that users are overwhelmed with the long list of search options. Users can currently search by court name, parish,London streetname or postcode, region, court type or 89 areas of law.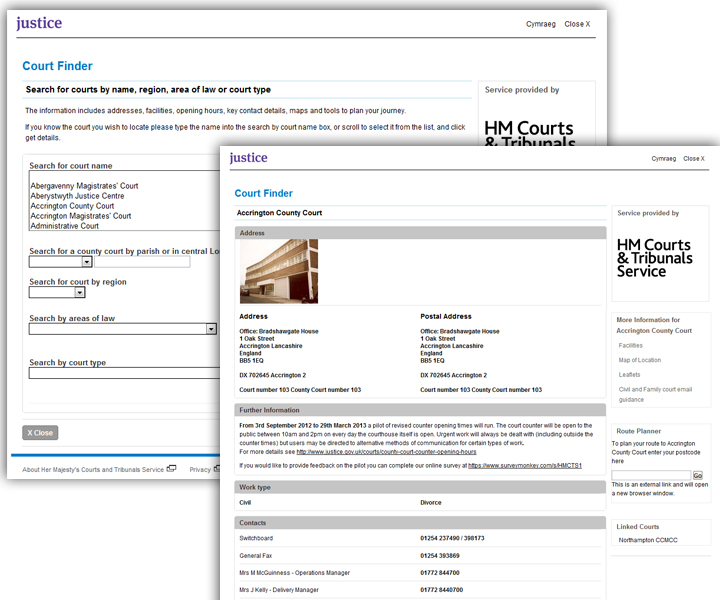 We know that many users search by court name, so are including this as an auto-complete field.
Instead of having multiple options for searching by location, we're having one simple postcode field.
Postcode currently doesn't work outside of London, so we're seeing if we can use Royal Mail's Postcode Address File (PAF®) data to improve results.
(Getting to grips with the PAF raw data is probably worth a blog post in itself!)
We're refining the list of areas of law to provide a short list of simple, intuitive categories (eg adoption, crime, divorce), drawing on data on popular search terms.
More specialised users will still be able to make more complex queries using an advanced search page.
We've also streamlined the information listed about the courts on the results pages.
Our overall approach is phased, but by providing a functional equivalent, a simple interface and analytics we can start to see who our users are, what they want and fine-tune the application by removing or reprioritising what we present.
The public alpha for the new court finder will go live in April.
We'd love to know what you think, especially if you've had to use the tool in the past to find details of a court.