Last week Chief Digital Officer Paul Shetler and I showcased MOJ Digital's work at the Leading Edge Forum Study Tour event in Silicon Valley.
The event focused on the intersection between IT and business in large public and commercial organisations.
It was a fantastic opportunity to share what we've delivered, get invaluable insights into how others work, and seek inspiration for the future of digital.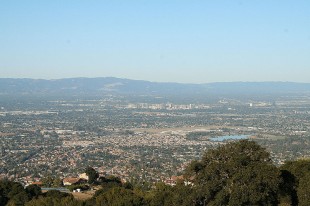 Fast, agile and user-focused
Silicon Valley - a hub for innovation and the home for many large tech companies as well as cutting edge start-ups - is obviously a long way from Westminster Village.
However, the people we spoke to on the tour were astonished at how quickly our teams are rolling out services. It soon became clear that MOJ Digital is much more user-focused and agile than a lot of their businesses.
Many thought that producing a business case and prototype in 3 months was great. They were even more impressed that we were producing working alphas in 8 weeks and live services within 20 weeks - especially when we explained that they all had to pass 26 tough service standards.
They were also impressed with how the UK government is creating an environment where innovation can flourish.

Think platform - not just product
Our mantra in MOJ DS is product not project - to deliver the goods rather than get bogged down in process -  and we're now expanding our focus to provide a platform for the rest of government.
Many of the products we are building from the ground up can and should be used across government by other departments.
With so many departments now building digital services we need to make sure that we're not reinventing the wheel every time. Not doing everything ourselves was a key message on day 1 of the tour.
The way we deliver services is maturing with each day, and next week we will be reviewing how we build and looking at what components we should:
create (as 'pioneers')
reuse (as 'settlers')
industrialise (as 'town planners')
(The terms in brackets refer to Simon Wardley's model for product development, in the diagram below.)
With 3 of our exemplar services live and a further 12 products being delivered, the timing is ripe to create common components that can be more easily reused across government - and that task starts now.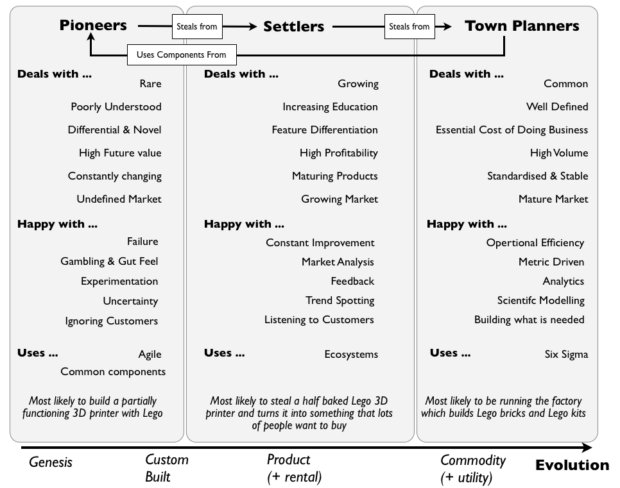 The importance of data - keep it and use it
The event confirmed that we need to do much more with our data - for example, one session showed how data can be used to find missing persons in Africa. There are many opportunities to use data to improve the justice system and we need to think about how we can best take advantage of them.
Storage and processing power are cheap. We know we need to get on top of it - now. There is plethora of data - video, sound or text, structured or unstructured, existing or external - and we should be using this data to create much better services for our users. The more data that we can expose to the problem the more robust the solution will ultimately be.
Our challenge is understanding what data we have, how we get access to it and what it means. We are setting the bar high as a department and using data to make the justice system more efficient.