Where shall I start, we as a team have achieved so much in so little time! 
In an era of rapid technological advancements, organisations must continuously evolve to meet the ever-growing demands of their customers. Justice Digital is no different. 
Our team has been at the forefront of the Ministry of Justice network services transformation, working diligently to enhance our operational capacity and capability. The fact that you are unaware, is an enormous success, as transformation and upgrades have been completed seamlessly and silently, ensuring our customers have a 21st-century service.
In my previous blog, I detailed how we as a team were working on multiple initiatives, including updating the WIFI at 92 prisons, the deployment of network access controls, reviewing and renegotiating our communication supplier contracts, and delivering the best possible value for money for all our customers. 
To do this, we actively evaluated modern technologies within the marketplace and explored their capabilities to allow us to continuously improve the service that we deliver and realise our strategic goal of making the experience of our users: simpler, faster, and better!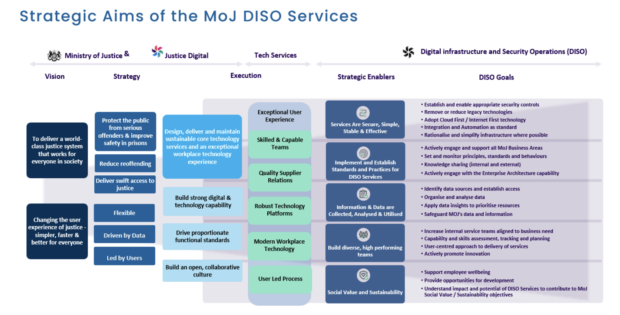 So, what have we been up to since then? 
Building the Team, Skills, and Knowledge

:  People are the key to our success and strength as a team! Recognising the importance of our colleagues and their valuable expertise within our organisation, we place a strong emphasis on building and supporting our in-house skills and development. Within the group, we have established dedicated Product Teams, and witnessed a significant boost in our operational capacity, building on our capability to drive efficiency and streamline processes and collaboration. 

Saving Money:

Through a series of strategic initiatives, we have achieved multi-million cost savings through decommissioning of end-of-life systems, unused resources, mobile connections, and hardware, as well as rationalising customer-based usage. Additionally, we have optimised cost savings through supplier contract negotiations and new procurements, driving down costs while improving service delivery. This all helps us to reduce operational risk and introduce efficiencies in the way our services are delivered, and to ensure that they are secure and ready to continue to serve our users going forward.

 
Becoming Leaner & Greener:

Through careful planning and optimisation, we have achieved a remarkable 20% reduction in our data centre footprint, resulting in significant annual savings.  Moreover, this reduction has had a positive environmental impact, saving 350 carbon tonnes per annum.

Reducing our Technical Debt:

  Out with the old, expensive hardware! - we have made considerable progress in refreshing our legacy systems, refreshing the network gateways and LAN infrastructure. These efforts ensure that our infrastructure remains secure, up-to-date, and aligned with the latest technological advancements.

Expansion of Network and Voice Upgrade

:  To support our growing network requirements, we have successfully completed the expansion of our Wide Area Network (WAN) capacity. Furthermore, our Voice Upgrade project, involving 33,000 users, has been seamlessly implemented without any disruptions to our customers.

Strengthened Security Controls

:  An integral and essential part of everything we do is also ensuring our network and integrated systems are secure. As part of this work, we have deployed Network access controls and enhanced our edge security - strengthening our defences further, and safeguarding our network from potential threats. 

Future Proofing

: We are working hard through our 'Evolve' portfolio, where the expiration of several contracts across various technological and connectivity services has provided us with an opportunity to review the scope of services provided and to look at the potential of taking more direct ownership of some of these services. In addition, it will also provide MoJ with an opportunity to engage the market and take advantage of innovation and the latest available technologies. 
As a team, we remain focussed on upgrading our systems to future-proof working models that support users going forward.  
In the coming year, we also have several large-scale initiatives to continue our journey:
Where 'Tech-Debt' remains, continue to remediate, or remove inefficient, expensive, legacy kit with better, cheaper, faster systems.

Deploy infrastructure across our Offices, Probation and Prisons estate to complete the expansion of the WAN (Wide Area network). This is key delivery, underpinning the implementation of other projects. 

Move towards a Zero Trust Network Controls model – a network security approach that assumes no user or device can be trusted by default. It uses strict access checks and ongoing verification to ensure that only authorized users, devices, and applications can access network resources. This helps prevent unauthorized access and reduces the risk of security breaches.

Rollout of reliable Wi-Fi across our Probation sites, helping our probation colleagues with increased flexibility in our sites and offices

Our 'Launchpad' initiative, where we are extending the secure, in-cell educational and support tools to additional Prisons.

Review our mobile telephony connections – through identifying 'zero usage' connections, we can cancel these devices, reducing our technical debt as well as making costs savings.

Further, exploit cloud-based infrastructure through cost optimisation and adopting standard ways of working across the MoJ family.

Continue to consolidate our on-premises hosting arrangements and further embrace sustainability, remove old technologies and carbon footprint reductions.

Embed integrated testing within our live operations and Agile product teams – to enhance and protect the incremental delivery of new features/systems.

Modernising our meeting room equipment and digital signage. 

Removing old telephony services and replacing them with modern unified communications services. 
It has also made sense to bring our Security Operations Centre (SOC) into the team fold, enabling closer collaboration with the network and infrastructure teams – highlighting and sharing threat detection; identifying and mitigating any vulnerabilities; strengthening the security posture of the MoJ while maintaining business continuity. 
And finally, what's in a name?  Well, after some consideration, our current moniker of Network, Voice, and Video no longer represents the breadth of services we offer and support for our users, or skills within the product teams today – so with this in mind, the team is now known as 'Digital Infrastructure and Security Operations' (DISO). 
We are looking forward to continuing our journey and sharing the next exciting installment with you soon!