Around 10 weeks ago when I took on this role I said I had no plans to change our strategy. Over the following weeks through conversations with people across D&T it became clear to me that the D&T strategy wasn't well understood and often added a layer of confusion to people's work lives. 
Aside from the complexity and potential confusion of having strategies at MoJ, agency, Digital & Technology, team, service and product level, I would question whether Digital & Technology should have a strategy that is different from that of the MoJ.
We talk a lot about the fact that we shouldn't be seen as a back office function, but an integral part of the organisation. So why should we have or do we need a separate strategy? By creating our own strategy, aren't we separating ourselves from the organisation or calling out that we are enabling the strategy and not a core part of it?
So in response to this challenge, a couple of weeks ago I set out the MoJ Digital & Technology (D&T) mission for this financial year, and well, sort of set aside our strategy.
Our strategy is the MoJ Strategy
I firmly believe that our overarching strategy should be the MoJ strategy, which is:
Protecting the public from serious offenders and improving the safety & security of prisons

Reducing reoffending

Delivering swift access to justice
Our mission: Building Confidence and Creating Simplicity
This year, the Outcome Delivery Plan for the MoJ sets out its mission as "Rebuild public confidence in the justice system" (underpinned by the strategy above).
Our D&T mission absolutely needs to support and deliver this mission. In order to rebuild public confidence in the justice system, there needs to be confidence in both the new and existing digital and technology services upon which that system operates.  So, the first part of our mission for this year is Building Confidence.
The second part is Creating Simplicity. Why? We have one of the most complex digital and technology estates in government. Simplicity has been shown to foster confidence - people have trust in things that are straightforward and easy to understand. We also have some very complex problems to solve at the MoJ - protecting the public, improving safety and security in prisons, reducing reoffending, and swift access to justice. In order to solve these complex problems in an incremental and iterative way we need to simplify and break them down. 
What about how we deliver?
So that's the what - What about the how?  What is our culture, who are we, how do we operate?  Well, we must all seek to embody the MoJ Values: Purpose, Humanity, Openness and Together.  But we need to (and do) do more than that.  I think our culture and ways of working can be summed up as, we:
Listen - understand our users and what's important to them

Deliver - rapidly deliver services that affect real demonstrable benefits for users

Communicate - what we're doing, why we're doing it and when we're doing it

Specialise - being the best at what we do and taking the time to invest in our skills

Imagine - think creatively about the real problem and right solution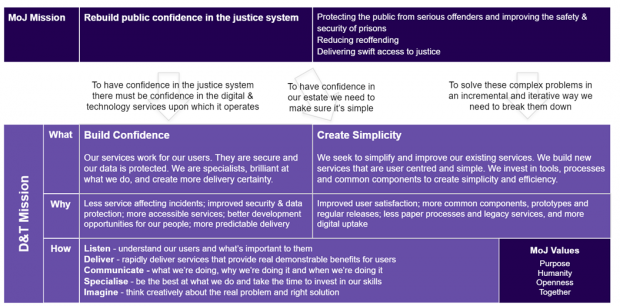 And with it my first step towards creating simplicity. I'd love to hear your thoughts.
Have a fabulous weekend.
Gina